From left to right: Ole Henæs (Innovation Norway), H.E. Ambassador Tone Tinnes (Myanmar), Erik Borgen (SNCC), H.E. Ambassador Anita Nergaard (Singapore), H.E. Ambassador Kjersti Rødsmoen (Thailand), Dilek Ayhan (BI), H.E. Ambassador Gunn Jorid Røset (Malaysia), H.E. Ambassador Morten Høglund (ASEAN), H.E. Ambassador Grethe Løchen (Vietnam), H.E. Ambassador Bjørn Staurset Jahnsen (Philippines)
Each August, Norwegian Ambassadors gather in Oslo to attend their annual meetings (Stasjonssjefmøtet). For the third year in a row, SNCC used this opportunity to invite the Norwegian Ambassadors to the ASEAN countries and the ASEAN ambassadors to Norway, together with senior representatives from the Norwegian corporate sector and businesses active in the ASEAN region, to a reception. Once again, our member Wikborg Rein sponsored the event, and let us use their executive lounge for the occasion.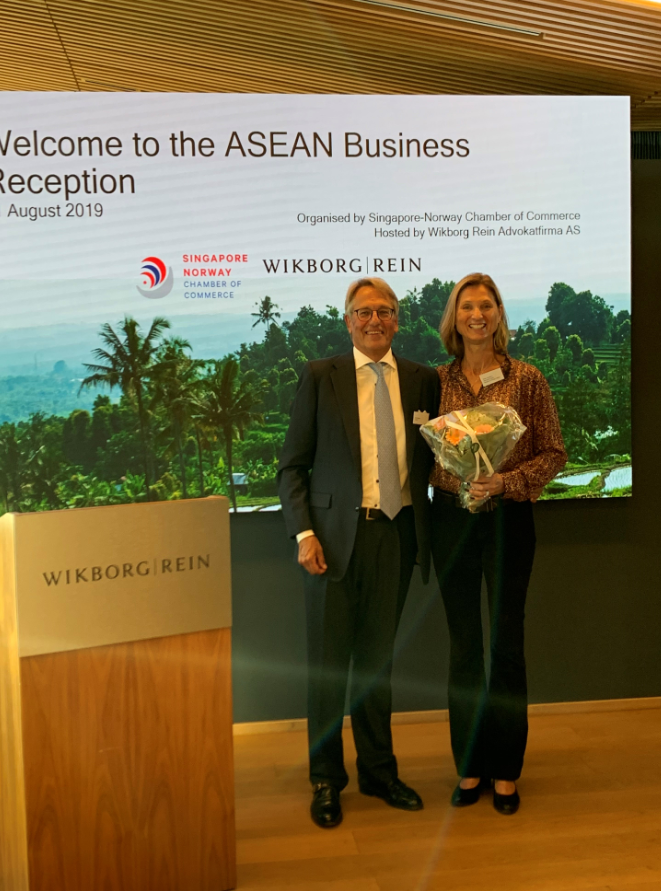 SNCC President Erik Borgen with State Secretary Marianne Hagen
70 representatives from diplomatic missions, Norwegian ministries and the corporate sector attended the event, and were welcomed by an introduction by SNCC's president, Mr Erik Borgen, and a speech by our guest of honour, State Secretary Marianne Hagen:
"The ASEAN region is very important for Norwegian economic interests. The ASEAN market as a whole is Norway's fourth largest market for trade in goods (after the EU, US and China), and its third largest for trade in services. In addition, the Government Pension Fund Global has made significant investments in the ASEAN countries (totalling around 20 billion USD in December 2017).
Negotiating the best possible conditions for trade with countries in Southeast Asia is therefore a key priority for the Norwegian Government. We are negotiating free trade agreements with Vietnam and Malaysia in addition to those already concluded with Singapore, the Philippines and Indonesia. We would like to supplement these agreements by establishing formal trade relations between EFTA and ASEAN. I am very encouraged by the recent contact between the EFTA and ASEAN secretariats. I also had a productive discussion with ASEAN's Secretary General when I met him in Jakarta in May.
International trade is important to both ASEAN and Norway. We are keen to continue our close cooperation with ASEAN countries under the UN and WTO umbrellas. The UN and the WTO are building blocks of the multilateral system that has served both Norway and ASEAN so well in recent decades.
Rules-bades international cooperation is under pressure. At the same time, the global challenges we are facing cannot be dealt with by any state alone. Support for binding international cooperation will therefore be a key element of Norwegian foreign policy in the years ahead.
Multilateral cooperation was one of the issues highlighted by Foreign Minister Ine Eriksen Søreide when she was a guest at the ASEAN Foreign Ministers' Meeting in Bangkok earlier this month. She had successful formal consultations with the Secretary-General of ASEAN and Thailand's Foreign Minister, the current ASEAN chair. She also had a number of constructive bilateral meetings with ASEAN member states and partners.
We have greatly appreciated our cooperation with Thailand in its capacity as char of ASEAN this year. Thailand's theme for its chairmanship, "Advancing Partnership for Sustainability", is in tune with Norway's commitment to the 2030 Agenda and the Sustainable Development Goals. We are sure there is great potential for further cooperation between ASEAN and Norway within the framework of the 2030 agenda.
In line with the 2030 Agenda, and particularly SDG 14, sustainable use of the oceans is a key priority for Norway. Pollution of the oceans by marine litter and microplastics is one of the fastest growing environmental concerns of our time. Combatting marine litter and plastic waste is a shared priority for ASEAN and Norway, and we look forward to strengthening our cooperation in this area. We would also welcome closer cooperation with the private sector.
Another area where we see a great deal of potential for Norwegian private sector engagement is within the ASEAN Smart Cities Network. This initiative was launched by Singapore last year, and we are happy to see that Thailand is continuing the work this year.
A number of Norwegian business have already shown an interest in playing a role in this initiative. Norway and Norwegian businesses have valuable technology and expertise to offer, especially in the areas of waste management, smart transport and clean energy.
Innovation Norway is the Norwegian focal point for this cooperation with ASEAN. And we are pleased that the Singapore-Norway Chamber of Commerce is also becoming involved in the Smart Cities Network. We would welcome closer contact on this matter. I look forward to discussing these and other initiatives with you."
The evening was a success and laid a good foundation for forging new business relationships. We are looking forward to next year's event.