Egersund-based NAVTOR provides innovative e-Navigation solutions, and is a total supplier of navigational products and services for the maritime sector. Singapore, as the world's largest port, is therefore an essential place for the company.
– Our Singapore office is one of the first offices we opened abroad. Singapore is an important place and a regional hub, close to Indonesia, Thailand, Philippines, and India, says Tor A. Svanes, Managing Director at Navtor.
From a standing start in 2011, the firm now has an established subsidiaries in Singapore, Japan, Sweden, the UK, Russia and the US, in additional to a network distributors worldwide.
For Navtor it is important to engage with other companies in the ASEAN region.
– Navtor does not only distribute navigation data, but also do a lot of research and development with the Maritim Port Authority (MPA) and others in Singapore. It is important for us to be part of a network both in Norway and in Singapore, to test the interest for the technology we work on. It is also important for Navtor to find partners – both those than can support us with technology, and those we can support with our technology, says Svanes.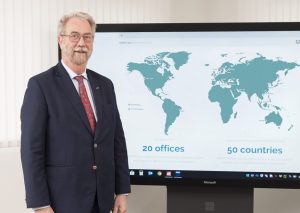 Photo: Tor A. Svanes, Managing Director at Navtor
Read more about Navtor and SNCC membership.